Double Edged Sword Technique Ruling Xyz Homework
A SMALL CAMPUS, but a close-knit campus, with the best mix of Dublin and country folk of any university in the city. At least that's what DCU heads think.
To everyone else, we're best know for our most famous past student, Ardal O'Hanlon, and the constant debate on the university's true location.
But if you went there, you'll know it's a very special place.
(Last week's college was good old Trinity. Other colleges around the country will be getting their turn soon too.)
1. Fitting 20+ people in a Larkfield bedroom for pre-drinks is like a game of human Tetris
It's do-able, but it's sure as hell not comfortable. But for the first year who actually lived in there, there was a sense of pride. You made it. You had a college party.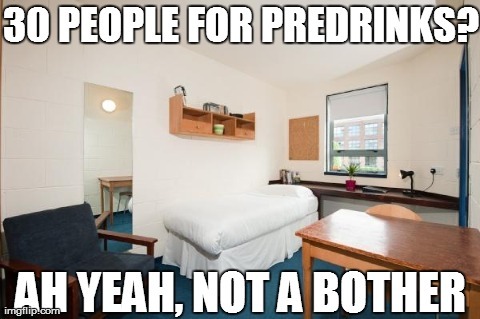 Source: DCU Accommodation
2. The house beer may be cheap, but it tastes like wee
The Nubar's dirt cheap house beer was to be avoided unless you really couldn't afford anything else.
You'd rather sneak your own cans in and risk being thrown out than drink it, but sometimes there is no choice.
3. The gymnastics non-residents would do to get to campus accommodation after hours
If you wanted to stay with a friend who lived on campus, you'd have to be booked in days in advance. In certain situations, that's just not possible.
Fortunately, the gates were fairly easy to climb, even after a few pints. But you had to be careful that campus security didn't catch you, or you'd be out on your ear.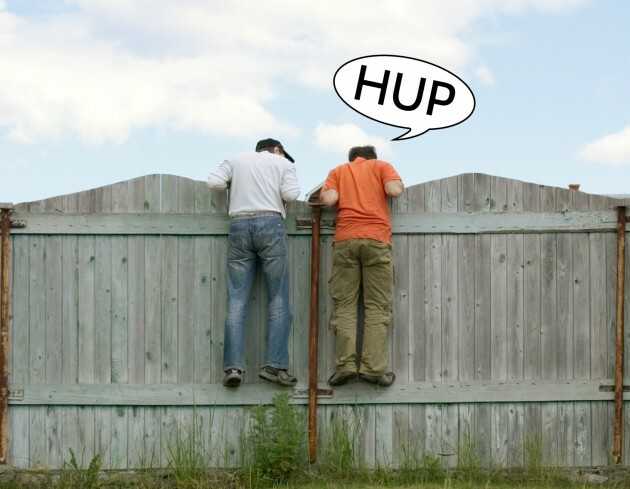 Dramatic recreation of the Hampstead Breach of '09. Source: Shutterstock
4. You always use the automatic door into the Henry Grattan
Even though it took ages to open and you ended up standing there like an eejit while less lazy people manually opened the other door, it was worth it.
Effort of using your arm muscles, like.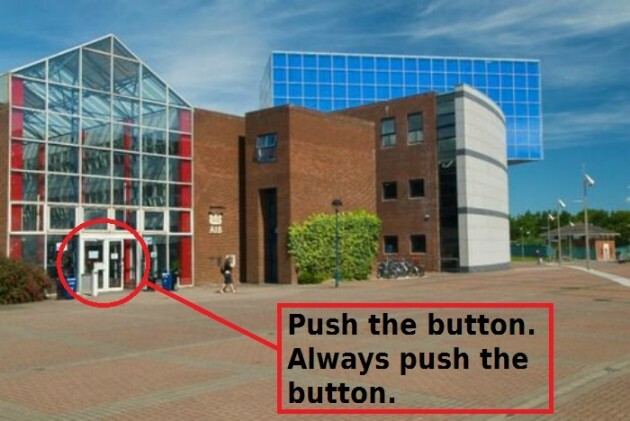 Source: Twitter/HenryGrattan
5. The chicken goujons in the Nubar are the food of the gods
The big plate of goujons and chips for a fiver has saved many a student from starvation.
Why cook? Why even go home to your mammy (if that was an option) when you could drizzle garlic sauce all over these juicy breaded wonders?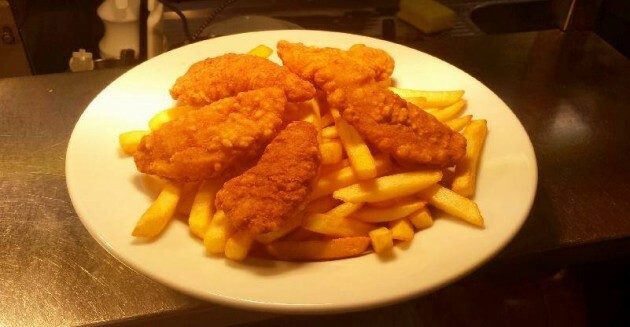 Source: Nubar DCU Facebook
6. College-wide emails from the SU President after Toxic Tuesday (RIP)
The President nearly always had to email the entire student body on Wednesday morning to scold them for the "anti-social behaviour" (ie. bin-tipping) that had occurred the night before.
The cancellation of Toxic Tuesday after the behaviour got too much for the residents of Collins Avenue and Ballymun Road is still a sore point for some present and former students.

7. The treat that was doing the Big Shop in the Omni
Well, it was a treat until you had to drag several bags of shopping back to your house.
If your housemate had a car you were sorted but even if not, you'd do anything for that Tesco Value swag.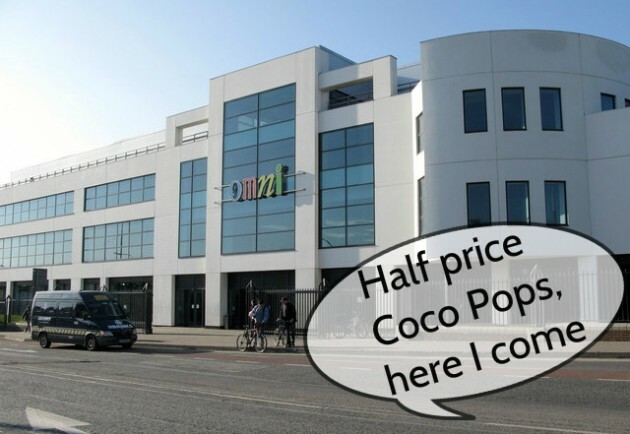 Source: Geograph.ie
8. The building/classroom code system makes no sense
It starts off well – A is for Albert College. Easy to understand.
Then you have C for the Henry Grattan, H for the Nursing building, Q for Business, and X for Science. Ah here.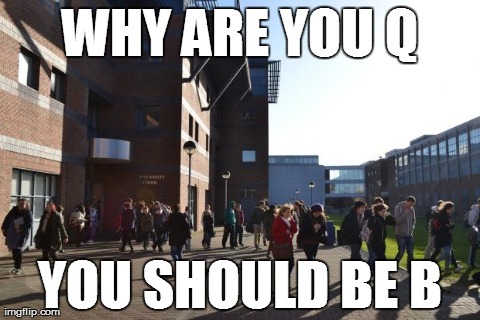 Source: Flickr/Marie L.
9. The interminable wait for a computer in the labs
Nations could flourish and wither away again while students waited to complete their assignments. An almost empty lab like the one below is rare.
The barefaced cheek of someone who locked a Mac then went away, safe in the knowledge few could do anything about it, could inspire fifty angry Facebook posts.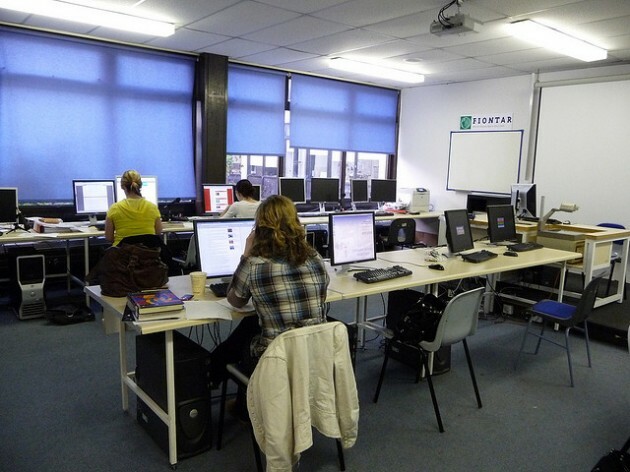 Source: Flickr/Fiontar
10. The walk to the library was like your Everest
You very rarely wanted to go to the (admittedly magnificent) library, because it meant you had an essay, or an exam, or some other trifling vexation.
Then there was the journey there, which though short often felt like the longest walk of your life. The fact that almost 1,400 people believe a travelator should be installed between the library and the Henry Grattan attests to this.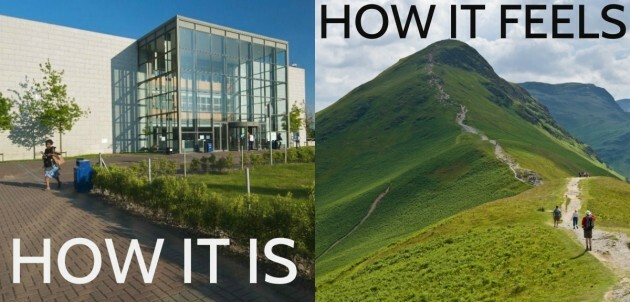 Source: Flickr/Learn English At DCU
11. You NEVER want to be late for a lecture in T101
The door undoubtedly slammed, a hundred heads turned to look at you, a task made easy by the fact that the room is basically a huge circle. Then you had to walk all the way down to the front with a big manic head on you.
If you were really unlucky, the lecturer made some sort of smart comment, and then you just wanted the ground to open up and swallow you.
Source: Google Maps
12. There are tons of secret cafés
As well as the standard eating spots such as the restaurant and the Nubar, you have a host of other more secluded spots like the cafés in the Invent and Business buildings. Here's a handy map with every café circled in red, should you ever find yourself back on the auld sod.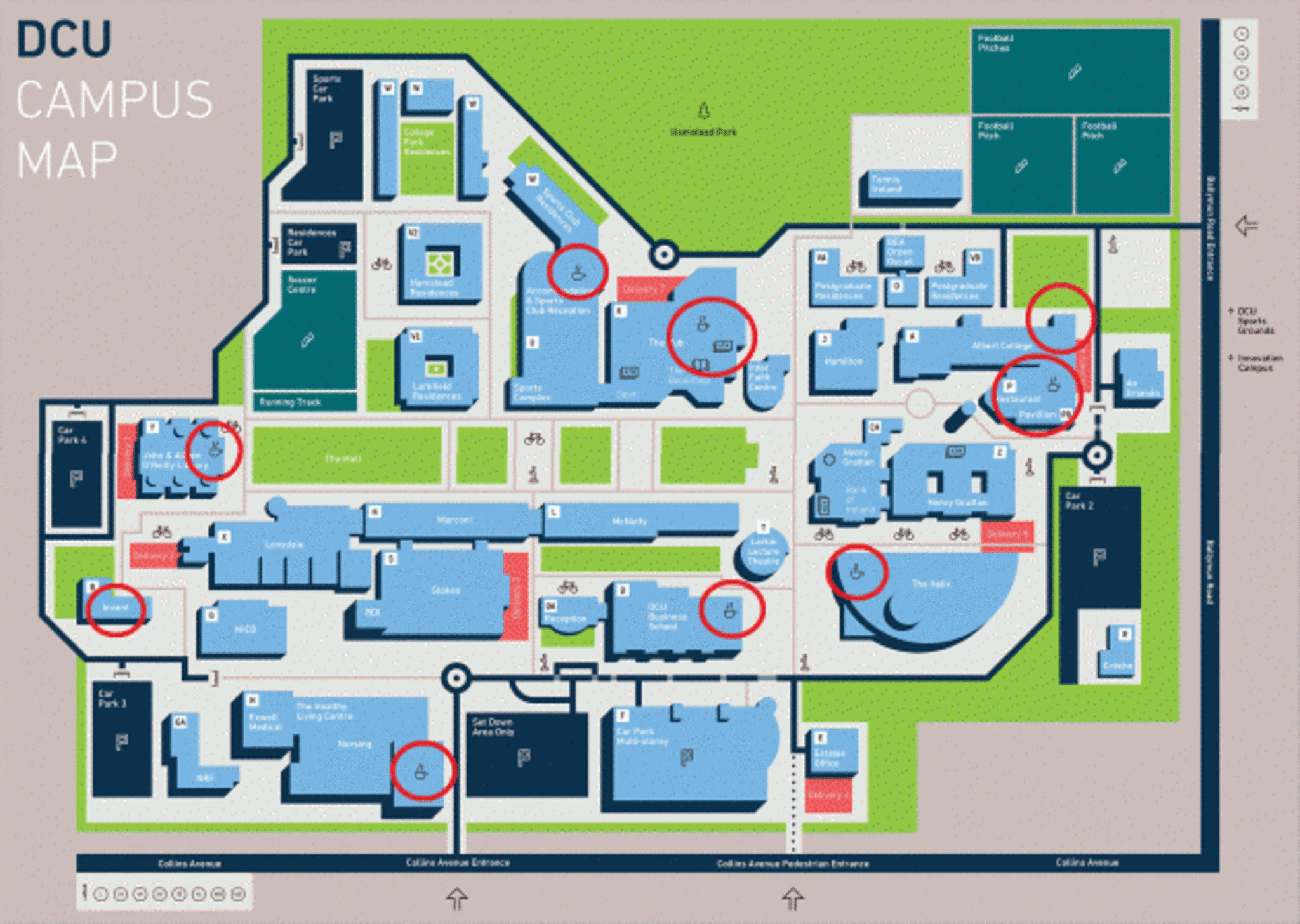 Source: DCU
13. There was no official entrance
There was the Avenue, the Helix entrance, the Collins Avenue/Nursing Building entrance, and various other ways to shlep in and out.
Now they've erected a big new DCU sign out by the Nursing entrance, we're guessing that's the one they want to officially use. But the Avenue will always be dearest to our hearts.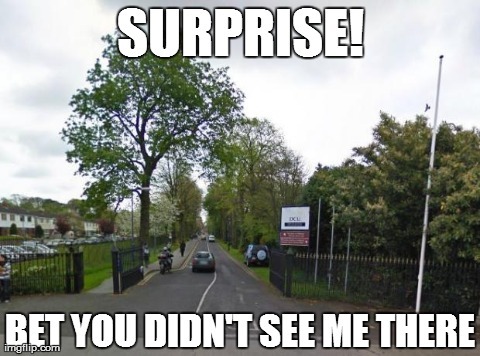 14. The toilets in the library are beyond a joke
So you got yourself a desk in the library, lucky you! Oh wait, you wanted to go to the bathroom?
Better entrust the person beside you with all your worldly possessions while you traipse back down four flights of stairs to the toilets. Don't forget your student card now, or you won't be able to get back up.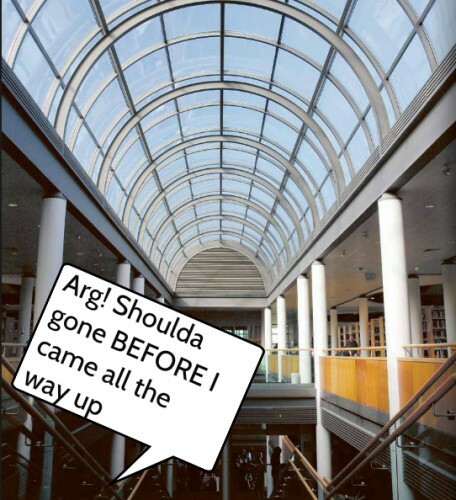 Source: DCU Prospectus 2014
15. Making Serious Spar Guy smile is the biggest challenge any student can face
No matter how cheery your greeting, no matter how grateful you are to him for allowing you to buy your chicken fillet roll, he would not and will not grin back.
There are rumours he has smiled at some lucky students, but the only concrete proof is at 1:17 in DCU's recent video tribute to Pharrell's Happy (he's the guy on the left).
Source: DCU RAG
16. It's actually in Glasnevin
It is. It IS. Whitehall and Ballymun are further down. It's the Ballymun ROAD, as in, the road TO Ballymun. Not Ballymun. Do you need proof? We have proof.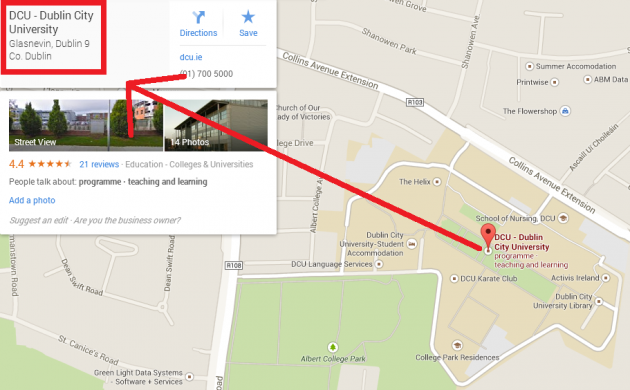 Share your DCU memories in the comments. Or, if you went somewhere else, just slag us for being country folk/GAA heads/going to college in DCU.
Read: 18 things you'll only know if you went to Trinity College Dublin>
Read: 10 people you will meet in college>
Workplace bullying is on the rise. About a third of American workers have been impacted by bullying in the workplace, either as a target or as witness to abusive behavior against a co-worker. Unfortunately, it's even more prevalent in the field of education. In a recent survey of medium-sized school districts, 25 percent of employees reported that they had been bullied. The bullying of teachers has become a serious problem.
A teacher from Augusta, Maine, was so traumatized by her principal and superintendent that she didn't want her name or school mentioned, but wanted to share her story because she believes the pervasive problem of workplace bullying has gone on unchecked for too long.
"I am sufficiently frightened enough by my former employers to fear that maybe they could still hurt me," she says. "I need to get a new job but won't be able to do so if I am unable to receive even one recommendation from an administrator.  I know it and so do they."
After the Augusta educator resisted being transferred to a new school and new grade level, she began to be scrutinized by her administrators. First, they began examining her test scores, her communications with parents, and her relationships with colleagues. Then, with no explanation and no warning, the principal began interrupting her class to pull out students one-by-one to talk to them. When the educator asked the students why they were being pulled out, they told her they were instructed not to tell.
She was accused of not using technology in her class, even though each student had a laptop. She was criticized for relying on a literacy mentor, even though some of her students were struggling with reading. She was put on a behavior modification plan and was told to submit her lesson plans a week in advance for review by administrators. Her peers warned her that she was being targeted, and she began to believe it. Finally, she left her job after her health began to deteriorate.
It's not just administrators bullying teachers, says Carv Wilson, a geography teacher at Legacy Junior High in Layton, Utah. He's been an educator for 18 years, and has seen teachers bullying each other to get their way, as well as aggressive parents who fly off the handle and threaten and intimidate their child's educators. But he says the worst case of ongoing workplace bullying he witnessed was by a principal.
"I was heavily involved in school leadership both as a Davis Education Association Rep and on the school representative counsel, and I heard about or witnessed first-hand the abuse of other teachers, staff, and students by this principal," he says. "She specifically targeted individual teachers and the only thing that seemed to offer any protection was membership in our local association."
Wilson says more than 60 percent of the educators were NEA members, and the other 30 percent "suffered dramatically at her hands."  The number of transfers out of the school was higher than 50 percent each year of the eight years that she was principal of the school.
"She seemed to revel in people being driven out of education or to another school," he says.  "The memories of that time still haunt me from time to time, but it solidified my belief that having representation both in school and in the local community through the association is critical. It's the only defense against unfair and even punitive measures that are sometimes solely prompted by personality conflicts."
Denise Mirandola is a union representative for the Pennsylvania State Education Association who holds trainings for members called "Bullying in the Workplace."
NEA Provides Educators with Guidance on Preventing Workplace Bullying
In 2013, NEA approved a resolution to "Defend the Rights and Dignity of Educators," which calls for the association to inform its members on ways to challenge administrator abuse of teachers and education support professsionals.
"I presented it at an Education Support Professionals meeting and was surprised to see so many heads nodding," she says. "I believe that the phenomenon has been overlooked far too long and should be brought to the surface quickly."
Like Wilson from Utah, she says association representation is vital if you're being targeted by a workplace bully. The first thing you should do, in fact, is contact your union representative. Then, document, document, document – save emails, letters, memos, notes from conversations, or anything that shows the mistreatment. She also recommends confronting the bully with a supportive ally, like a union rep – and to describe the offensive behavior you're experiencing, and the change in behavior you'd like to see.
According to Dr. Matt Spencer of the Workplace Bullying in Schools Project, "the bully steals the dignity, self-esteem, confidence, joy, happiness, and quality of life of the targeted victim". And when the target is an educator, it is a great "injustice" because the bully deprives students of a caring adult who is crucial to their education.
Currently there is no law in any state against workplace bullying, unless it involves harassment based on race, color, creed, national origin, sex, age or disability. Please support the Healthy Workplace Bill in your state. Go to www.healthyworkplacebill.org for more information.