Accident Case Study Communication Breakdown In The Workplace
Data extracted in November 2016. Most recent data: Further Eurostat information, Main tables and Database. Planned article update: May 2018.
This article presents main statistical indicators concerning non-fatal and fatal accidents at work in the European Union (EU) collected within the framework of the European statistics on accidents at work (ESAW) administrative data collection.
Data included in this article complements other health and safety at work data from the EU LFS ad hoc module 2013 on self-reported accidents at work and on self-reported work-related health problems and risk factors.
An accident at work is defined in ESAW methodology as a discrete occurrence during the course of work which leads to physical or mental harm. Fatal accidents at work are those that lead to the death of the victim within one year. Non-fatal accidents at work collected within ESAW are those that imply at least four full calendar days of absence from work (they are sometimes also called 'serious accidents at work'). Non-fatal accidents at work often involve considerable harm for the workers concerned and their families and they have the potential to force people, for example, to live with a permanent disability, to leave the labour market, or to change job; indeed, they result in a considerable number of days of work being lost within the European economy.
Main statistical findings
Number of accidents
In 2014, there were close to 3.2 million non-fatal accidents that resulted in at least four calendar days of absence from work and 3 739 fatal accidents in the EU-28 (see Table 1), a ratio of approximately 850 non-fatal accidents for every fatal one. There was a slight increase in the number of accidents at work in the EU-28 between 2013 and 2014, with 49 thousand more non-fatal accidents and 65 more fatal accidents. Men were considerably more likely than women to have an accident at work. In the EU-28, more than two out of every three (68.7 %) non-fatal accidents at work involved men.
The number of accidents in a particular year is likely to be related, at least to some extent, to the overall level of economic activity and the total number of persons employed. As such, an analysis of historical developments reveals there was a reduction in the number of accidents at work in 2009, which may be attributed to the slowdown, stagnation or contraction of economic activity associated with the global financial and economic crisis.
Incidence rates
An alternative way to analyse the information on accidents at work is to express the number of accidents in relation to the number of persons employed (referred to as the 'incidence rate'); in Figures 1 and 2 simple incidence rates are shown, relating the number of accidents to the overall number of persons employed. In any given country this gives an indication of the likelihood of someone having an accident. For fatal accidents this ranged in 2014 from less than 1.0 per 100 000 persons employed in Sweden, the United Kingdom, Finland (2013 data), Greece and the Netherlands (as well as Iceland in 2013) to more than 4.0 fatal accidents per 100 000 persons employed in Bulgaria, Latvia, Lithuania and Romania (see Figure 1). For non-fatal accidents the range was from less than 100 per 100 000 persons employed in Greece, Bulgaria and Romania to more than 3 000 per 100 000 persons employed in France (see Figure 2). Particularly low rates in Bulgaria and Romania as well as in some other eastern EU Member States are mainly thought to reflect the fact in that these Member States the reporting systems offer no or little financial incentive for victims to report their accidents; the phenomenon of low non-fatal incidence rates can be considered to reflect under-reporting following the assumption that many accidents remain unreported. The situation for incidence rates of fatal accidents is different as it is much more difficult to avoid reporting fatal accidents. However, some experts argue that there could even be under-reporting of fatal accidents in some Member States.
It should also be noted that fatal accidents are relatively rare events: as noted above, on average one out of approximately every 850 accidents in the EU-28 was fatal in 2014. Because of this, incidence rates for fatal accidents can vary greatly from one year to the next, in particular in the smaller EU Member States. This can be seen in Figure 1 where there are significant differences between 2013 and 2014 for some of the Member States.
Standardised incidence rates
When comparing data between countries these simple incidence rates can be difficult to interpret, for example when comparing the effectiveness of measures to prevent accidents at work, as the likelihood of having an accident is related to the economic activity in which a person works (as shown below in Figures 5 and 6) and the relative importance of different activities varies between countries. To account for this, standardised incidence rates are calculated and data for these rates are shown in Figures 3 and 4. These assume that the relative sizes of economic activities within each national economy are the same as within the EU-28 as a whole. As such, these standardised incidence rates give a more neutral comparison of the health and safety situation in different countries.
Note that these standardised incidence rates have a slightly narrower activity coverage than the simple incidence rates, as they exclude the mining and quarrying sector as well as some service activities (standardised incidence rates cover only the NACE Rev. 2 Sections A and C–N, thus excluding Sections B and O–U). The range between the lowest and highest rates observed for the EU Member States was slightly narrower for the standardised rates than for the simple rates when analysing the fatal rates (see Figures 1 and 3), whereas the reverse was true for the non-fatal rates (see Figures 2 and 4).
Based on the slightly narrower activity coverage, across the EU-28 there were, on average, 2.3 fatal accidents per 100 000 persons employed in 2014 (see Figure 3) while there were 1 642 non-fatal accidents per 100 000 persons employed (see Figure 4).
The highest standardised incidence of fatal accidents at work in 2014 was recorded in Romania (7.1 deaths per 100 000 persons employed), confirming the situation recorded a year earlier, when Romania also had the highest incidence of fatal accidents at work among the EU Member States (6.9 deaths per 100 000 persons employed in 2013); Latvia, Lithuania, Bulgaria, Portugal and Malta were the only other EU Member States that reported standardised incidence rates above the level of 4.5 fatal accidents per 100 000 persons employed; Norway also reported a standardised incidence rate above this level. By contrast, at the other end of the range, the Netherlands recorded the lowest standardised incidence rate, 1.0 fatal accidents per 100 000 persons employed.
The incidence of non-fatal accidents at work in 2014 was generally highest in some southern and western EU Member States with insurance based accident reporting systems: Portugal reported 3.6 thousand non-fatal accidents per 100 000 persons employed, followed by France and Spain with rates of 3.4 thousand and 3.2 thousand per 100 000 persons employed. Insurance based accident reporting systems offer a significant financial compensation for the victim when an accident is reported, as opposed to legal obligation systems in which victims are covered by the general social security system. Among the eastern EU Member States, which mostly have legal obligation systems, Slovenia was the only one to report an incidence rate of more than 1 000 non-fatal accidents per 100 000 persons employed. By far the lowest rates were reported in Bulgaria and Romania, at 82 and 75 non-fatal work accidents per 100 000 persons employed in 2014; again it should be noted that these values are thought to reflect a higher level of under-reporting.
Analysis by gender
Part of the gender difference in relation to accidents at work may be attributed to the fact that there were more men than women employed in the labour force — although after adjusting for this, the incidence rates recorded in 2014 for men remained consistently much higher than those for women in each of the EU Member States. In Sweden, the average (simple) incidence rate for non-fatal accidents at work in all activities for men was no more than 1.1 times as high as that recorded for women, while the gender gap was also relatively small in Denmark and France (as well as in Norway). By contrast, in Austria the rate for men was 3.3 times as high as that for women, rising to 3.5 : 1 in Malta and peaking at 3.8 : 1 in Romania.
Analysis by activity
Another reason why the incidence of accidents may be higher for men is linked to the economic activities where they are more likely to work. Indeed, the number of accidents at work varies greatly depending upon the economic activity in question (see Figure 5) and is positively skewed in relation to male-dominated activities. Within the EU-28, the construction, transportation and storage, manufacturing, and agriculture, forestry and fishing sectors together accounted for just over two thirds (67.2 %) of all fatal accidents at work and somewhat less than half (44.9 %) of all non-fatal accidents at work in 2014. More than one in five (20.9 %) fatal accidents at work in the EU-28 in 2014 took place within the construction sector, while the transportation and storage sector had the next highest share (16.6 %), followed by manufacturing (15.4 %) and agriculture, forestry and fishing (14.3 %). Apart from transportation and storage, most service activities recorded relatively low shares of the total number of fatal accidents. Nevertheless, non-fatal accidents were relatively common within wholesale and retail trade (12.8 % of the total in the EU-28 in 2014), human health and social work activities (11.5 %), administrative and support service activities (7.4 %), as well as accommodation and food service activities (4.9 %).
Analysis by type of injury
It is also possible to analyse the data according to the type of injury sustained during accidents — see Figure 6. Data for the EU-28 for 2014 show that there were two types of particularly common injury, namely, wounds and superficial injuries (30.0 % of the total) and dislocations, sprains and strains (27.2 %), followed by two other relatively common types, namely concussion and internal injuries (17.2 %) and bone fractures (11.5 %); none of the other types of injury accounted for a double-digit share of the total number of accidents in the EU-28.
The data collected in the context of ESAW also includes an analysis of which body parts were injured in accidents (such as head, neck, back, torso and organs, arms and hands, legs and feet) as well as information on the causes and circumstances of accidents.
Data sources and availability
In December 2008, the European Parliament and the Council adopted Regulation (EC) No 1338/2008 on Community statistics on public health and health and safety at work. The Regulation is designed to ensure that health statistics provide adequate information for all EU Member States to monitor Community actions in the field of public health and health and safety at work. In April 2011, a European CommissionRegulation (EU) No 349/2011 on statistics on accidents at work was adopted specifying in detail the variables, breakdowns and metadata that Member States are required to deliver; this legislation is being implemented in a number of phases.
European statistics on accidents at work (ESAW) is the main data source for EU statistics relating to health and safety at work issues. ESAW includes data on occupational accidents that result in at least four calendar days of absence from work, including fatal accidents. The phrase 'during the course of work' means while engaged in an occupational activity or during the time spent at work. This generally includes cases of road traffic accidents in the course of work but excludes accidents during the journey between home and the workplace.
The statistics presented for accidents at work refer to declarations made to either public (social security administrations) or private insurance schemes, or to other relevant national authorities (for example, those controlling labour or workplace inspections). Indicators on accidents at work may be presented as absolute values, as percentage distributions, as incidence rates in relation to every 100 000 persons employed (the denominator being provided by the authorities in the EU Member States that are responsible for ESAW data collection or by the EU's labour force survey (LFS)) or as standardised incidence rates.
The data generally relate to all economic activities, unless otherwise specified; for example, the analysis in Figures 3 and 4 covers NACE Rev. 2 Sections A and C to N. Because the frequency of accidents at work varies between NACE activities (high risk activities include agriculture, manufacturing, construction and transport) a standardisation process is performed to facilitate the comparison of national data. A direct standardisation method is used with weights calculated for the European reference population (EU-28): the weights represent the proportion of the reference (working) population in each NACE activity. For each EU Member State the national incidence rates are calculated for each NACE activity and these are combined using the fixed set of EU weights to produce an overall standardised incidence rate for the Member State concerned; more details are available in a methodological note.
Statistics on accidents at work may reflect under-coverage or under-reporting. Under-coverage exists when the appropriate population is not covered by the source of the data on accidents, for example when a certain economic sector or employment type is excluded. Under-reporting relates to the situation where an accident occurs but is not reported although the related economic sector is included. The extent of under-coverage of ESAW data can be analysed partially by comparing the reference population (of workers) in ESAW with data derived from the labour force survey. Under-reporting is more difficult to analyse and establish but some comparisons are available. One method is to compare results from the reporting systems used for the legal obligation to report an accident with systems based on insurance reports; this may indicate under-reporting in the system for the legal obligation of accidents or over-reporting in insurance systems. Another method is to compare (geographically or over time) the ratio of fatal to non-fatal accidents, as the reporting of fatal accidents is thought to be more likely to be accurate due to their severe nature. Comparisons can also be made with data from household surveys, for example from the labour force survey (which included an ad hoc module in 2013 on accidents at work and work-related health problems). A study undertaken by Eurostat in 2014 using all of these approaches indicated that the level of under-reporting of non-fatal accidents is substantial in EU Member States that joined the EU after 2003 with the exception of Malta and Slovenia. In addition, Greece and Norway have very low standardised and non-standardised incidence rates which are thought to result from high levels of under-reporting. When compared with other Member States which joined the EU before 2003, Ireland, Sweden and the United Kingdom also record substantially lower standardised and non-standardised incidence rates (about 50 % of the EU-15 average). On the other hand, Portugal, France and Spain reported standardised and non-standardised incidence rates that were more than 150 % of the EU-15 average.
In addition, changes in the way data are collected and processed in the EU Member States may have an influence on the number and incidence of accidents at work in a particular year. For example, on 30 June 2016 a number of derogations from provisions in the EU regulation governing European Statistics on Accidents at Work (ESAW) ended in several of the Member States. This had a significant effect on the data concerning accidents at work for reference year 2014. For example, for the first time French data included full coverage of all employees in economic sectors covered by NACE Rev. 2 Sections A–S; this led to a substantial increase in the number of accidents recorded in France (compared with 2013). In a similar vein, for the first time the 2014 data for Belgium included information pertaining to accidents in the public sector and this also resulted in an increase in the reported number of accidents. At the same time, in 2016 some correction factors were removed from Greek data by the national statistical office due to methodological issues which caused a very considerable reduction in the number of accidents reported for reference year 2014 (compared with 2013); it is expected that a more complete Greek dataset will be received in the coming years, which should increase the reported number of accidents again. Finally, Dutch and Norwegian data (the latter are not included in the EU-28 total) for the 2014 reference year for non-fatal accidents displayed a significant decrease due to methodological issues. If the Belgian, Greek, French, Dutch and Finnish data were removed from the EU-28 total, the development in the total number of accidents between 2013 and 2014 would be almost unchanged, with a very small increase of 0.03 %.
Context
A safe, healthy working environment is a crucial factor in an individual's quality of life and is also a collective concern. EU Member State governments recognise the social and economic benefits of better health and safety at work. Reliable, comparable, up-to-date statistical information is vital for setting policy objectives and adopting suitable policy measures and preventing actions.
The Treaty on the Functioning of the European Union (Article 153) states that '[...] the Union shall support and complement the activities of the Member States in the following fields: (a) improvement in particular of the working environment to protect workers' health and safety; [...]'. The main principles governing the protection of workers' health and safety are laid down in a 1989 framework Directive 89/391/EEC, the basic objective of which is to encourage improvements in occupational health and safety. All sectors of activity, both public and private, are covered by this legislation, which establishes the principle that the employer has a duty to ensure workers' health and safety in all aspects relating to work, while the worker has an obligation to follow the employer's health and safety instructions and report potential dangers.
Within this field, the European Commission's policy agenda for the period 2014–2020 was set out in a Communication titled EU strategic framework on health and safety at work for 2014–2020 (COM(2014) 332 final), which outlined three major challenges: to improve implementation of existing health and safety rules; to improve the prevention of work-related diseases by tackling new and emerging risks without neglecting existing risks; to take account of the ageing of the EU's workforce. This framework is designed to ensure that the EU continues to play a leading role in the promotion of high standards for working conditions within Europe (as well as wider afield), in keeping with the Europe 2020 strategy.
The framework put forward a range of actions under seven key strategic objectives, one of which was to improve statistical data collection to have better evidence and developing monitoring tools. In this context, the Communication noted that it is important for evidence-based policymaking to collect reliable, timely and comparable statistical data on work-related accidents and diseases, occupational exposures, work-related ill-health, and to analyse the costs and benefits in the area of occupational safety and health. Specifically, the Communication proposed the following action directly related to accident at work statistics: assess the quality of data transmitted by EU Member States in the framework of the European statistics on accidents at work data collection, with the aim of improving coverage, reliability, comparability and timeliness.
See also
Further Eurostat information
Publications
Database
Accidents at work (ESAW, 2008 onwards) (hsw_acc_work)
Accidents at work (ESAW) - until 2007 (hsw_acc7_work)
Accidents at work and other work-related health problems (source LFS) (hsw_apex)
Work related health problems and accidental injuries - LFS 1999 (hsw_inj_pb)
Dedicated section
Methodology / Metadata
ESMS metadata files
Publication
Source data for tables and figures (MS Excel)
External links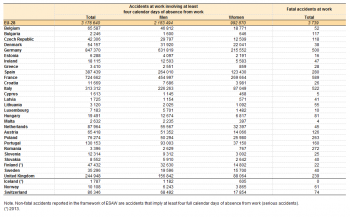 Table 1: Number of non-fatal and fatal accidents at work, 2014
(persons)
Source:
Eurostat (hsw_n2_01) and (hsw_n2_02)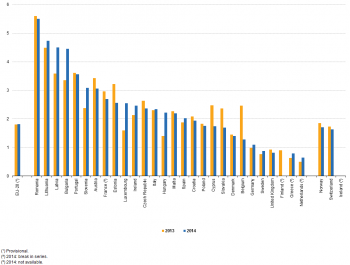 Figure 1: Fatal accidents at work, 2013 and 2014
(incidence rates per 100 000 persons employed)
Source:
Eurostat (hsw_n2_02)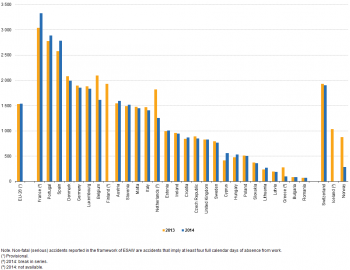 Figure 2: Non-fatal accidents at work, 2013 and 2014
(incidence rates per 100 000 persons employed)
Source:
Eurostat (hsw_n2_01)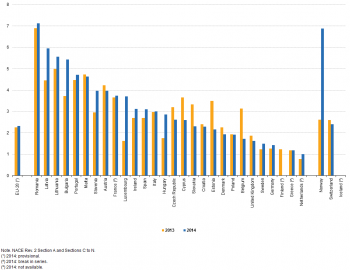 Figure 3: Fatal accidents at work, 2013 and 2014
(standardised incidence rates per 100 000 persons employed)
Source:
Eurostat (hsw_mi01)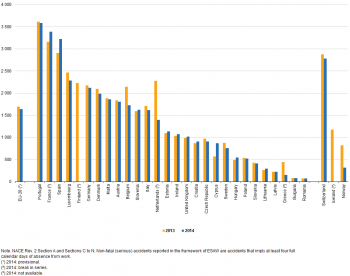 Figure 4: Non-fatal accidents at work, 2013 and 2014
(standardised incidence rates per 100 000 persons employed)
Source:
Eurostat (hsw_mi01)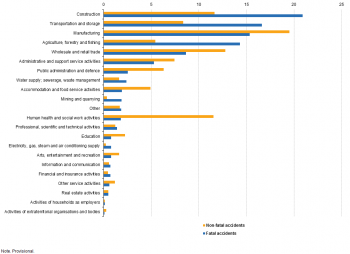 Figure 5: Fatal and non-fatal accidents at work by economic activity, EU-28, 2014
(% of fatal and non-fatal accidents)
Source:
Eurostat (hsw_n2_01) and (hsw_n2_02)
Figure 6: Fatal and non-fatal accidents at work by type of injury, EU-28, 2014
(%)
Source:
Eurostat (hsw_n2_07)
One November evening in 1987, commuters were busily rushing home from work on the London Underground.
This particular night saw the cavernous main hall of King's Cross overloaded with passengers rushing through to catch their trains.
Smoking was banned in the London Underground, due to a fire at Oxford Circus in 1984, but commuters eager to get their nicotine hit, would light up on the outgoing elevator. On this particular evening, one commuter threw their match over the side of the elevator. And unlike the majority of matches that burnt out on the fall down, this one ignited.
What then took place highlighted a lot of small cultural issues within the London Underground that on their own, were fairly insignificant, but when they occurred simultaneously caused a major catastrophe. According to the book Outliers: The Story of Success by Malcolm Gladwell, when you assess any big industrial accident, there are always a series of errors that on their own don't cause any damage, but when they add up, the results can be disastrous.
King's Cross Fire
King's Cross station is undoubtedly, a beautiful, majestic old Victorian English railway station that features a labyrinth of deep escalators and a sea of people rushing about. Back in 1987, most of the internal structure of the elevators was made from wooden slats and rubber handrails that had been used in construction decades before. Around 20 layers of paint had been used to repaint the ceiling, so that no-one could remember it's original colour.
According to The Power of Habit by Charles Duhigg, Phillip Brickell, a 43 year old ticket collector was notified of a burning tissue at the bottom of a nearby escalator by a concerned commuter. Immediately, he rode the escalator down, found the smoking tissue, extinguished the flames and went back to his position.
Curiously, Brickell thought no more about the tissue and where it had come from. He had no idea it had flown off a much larger fire that was burgeoning somewhere in the station.
He also did not tell other employees or call the fire department.
It could easily be assumed that Brickell was incompetent and not much of a thinker. The truth was he was symptomatic of a much bigger problem within the London Underground that was the perfect breeding ground for a large scale safety accident.
Fifteen minutes later, a passenger told another Underground employee about a wisp of smoke as he rode up the Picadilly escalator.
This time Christopher Hayes, the safety inspector was called in to investigate. Further reports of smoke and flames were increasingly being reported by commuters and even a policeman.
Yet, Hayes did not call the fire brigade. Instead, he went into the Piccadilly escalators machine room walking past the sprinkler system, to investigate. Unfortunately, Hayes and the rest of the staff at King's Station had never been trained to use it. That was because no-one was authorised, because it was controlled by another department.
By this stage, Hayes was nearly overcome by the thick acrid smoke. The fire was too big to extinguish.
Thankfully, during this time, the policeman decided to contact headquarters and walked up a long staircase outdoors where his radio worked. Finally, the fire brigade were notified of a "small fire at King's Cross".
Hayes ran back and gave orders to stop the trains and evacuate.
The entry to the Piccadilly escalator was roped off and people were diverted to a different stairway.
In the ticketing hall, thick black smoke started to snake across the ceiling and the escalator's rubber handles being to burn and melt. The burning rubber emitted an acrid smell that started to concern the rushed commuters.
By this stage the fire was spreading at an alarming rate. The entire escalator was aflame, fed by a superheated gas that rose up to the ceiling where it was trapped against the tunnel's ceiling of multi-layered paint.
The paint began absorbing the warmth and when each new train arrived, it pushed a fresh gust of oxygen into the station, strengthening the fire like a bellows.
Commuters were still alighting off trains, immediately realising that they'd be sent to a fiery hell with smoke wafting around and a sweaty, acrid heat permeating the platforms. Frightened commuters tried desperately to get back into their departing train. But once the doors were sealed they were not allowed to open again. Despite their screaming, trains set off again leaving commuters behind to face their doom.
Shortly after, a train went through, feeding the raging fire, causing a jet of flames to shoot out from the escalator filling the ticket hall with thick black smoke and intense heat killing or seriously injuring most of the people in the ticket hall. Known as a flashover point, the superheated gases on the escalator reached combustion temperature, igniting everything in site into a deadly blast. Within half a second, the temperature of the hall shot up to 150 degrees.
By this stage, around 700 commuter were trapped underneath trying to escape by running onto the train lines.
The blaze was finally extinguished six hours later. It took longer than normal because all of the station's blueprints were in a locked office where no-one had access to the keys.
So what caused the incident?
The King's Cross fire is one of the best examples of the dangers of a hierarchical management style where workers must be seen, but not heard.
Back in 1987, the London Underground operated by a set of informal rules demanding that every employee do what they were told and only did their particular job. They were not allowed to question anything.
Brickell the ticketing clerk, was following orders perfectly by not telling anyone about the burning tissue. In fact, he'd overstepped his role by leaving his post and removing the burning tissue.
Station employees were not trained on how to use the sprinkler system. In fact, they had never even been allowed to see a letter from the depty assistant chief of the London Fire Brigade that complained that staff were not trained in safety matters and needed to immediately call the fire brigade, if they so much as thought there might be a possible fire.
Meanwhile, station employees were warned to not contact the fire brigade, unless absolutely necessary, for fear of panicking commuters.
Normally, each of these informal rules ensured the smooth running of the Underground. With its 19,000 employees, the trains famously ran on time in a delicate system that saw employees co-operating to ensure the smooth running of trains. Ticket queues could be dealt with quickly, if the ticketing clerk only processed tickets.
For over forty years, the Underground had been run by "Four Barons' - departmental chiefs that presided over signal, electrical, civil and mechanical engineering. Within each of these departments was a hierarchical web of bosses and sub-bosses who autocratically guarded their jurisdiction. No chief ever trespassed onto the territory of another.
In the book, Multipliers by Liz Wiseman, she points out that corporate environments are the perfect setup for diminishing leadership and have an built-in tyranny. With organisation charts, titles and clear hierarchies, there is no level playing field for all layers of staff. While policies are put in place to create order, they do have the disadvantage of stopping people from thinking.
As an investigator noted, "The engineering director did not concern himself with whether the operating staff were properly trained in fire safety and evacuation procedures because he considered those matters to be the province of the Operations Directorate."
When it comes to improving safety, the King's Cross tragedy taught us:
The importance of feeling safe to communicate - Social behaviours and norms that expect deference to an authority figure are a recipe for disaster when it comes to safety. It's important the everyone at all levels can talk about safety and know that they will not lose their job (see Are tyrants threatening staff safety in your company? for another example).
Safety training - This one is a given, but what this disaster showed us was that no-one took responsibility for fire safety or evacuation procedures training. Everyone at every level needs safety training.
Breaking down silos - Having each department working separately never works for safety. Safety needs to be integrated in every department, with inter-department meetings talking about safety and taking ownership.
Safety leadership - Ultimately, what the King's Cross tragedy so painfully highlighted was that there was no one person who had the ultimate responsibility for passenger's safety. The Director of Operations had written a letter that the layers of old paint posed a fire hazard and should be removed. However, as painting protocols were not his responsibility and he was chastised for interfering. It was constantly being deferred to others. No matter how big the company, one person needs to take ultimate responsibility. Normally this is the CEO, which is why their are strong penalties for the CEO if a safety accident occurs under their watch (or in Australia, at least).
Safety accountability - While the top leader needs to be responsible for safety overall, each employee needs to be empowered to discuss, think and share safety information. That's why open safety or toolbox meetings are so important.
After the King's Cross fire and a subsequent investigation, many senior leaders of the Underground resigned. It also led to improved fire safety regulations.
As Charles Duhigg wrote in The Power of Habit, crises are so valuable that memorable leaders see the opportunities of a crisis to bring about much needed cultural change. The King's Cross fire is a perfect example of how, through the ashes of a catastrophe, many future lives were saved from addressing big gaps in safety training.
Image Credit: Wikipedia, Christopher Newberry